Private Funding for SMEs
SHOP4CF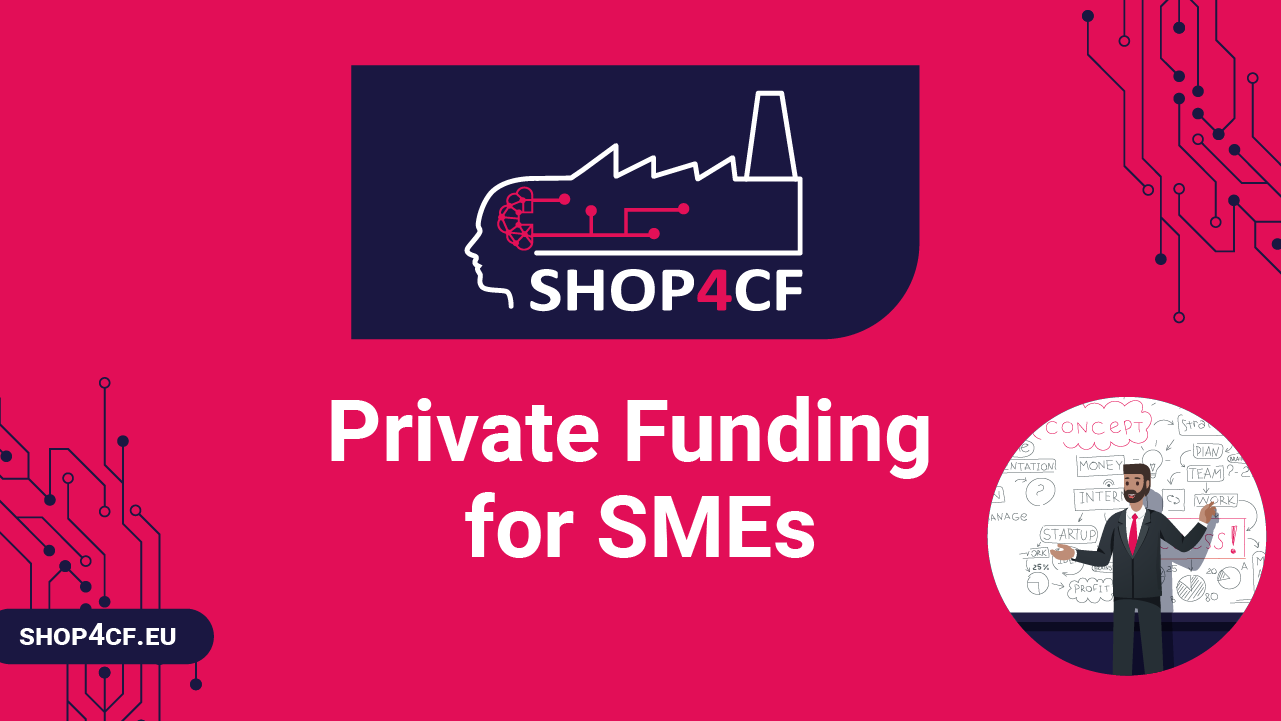 About This Course
---
The primary objective of the private funding course for start-ups and SMEs in the industry X.0 is to provide an understanding of the key concepts, sources, actors, processes and strategies to follow in order to get funding for your business in the early stages of the entrepreneurial journey.
This course addresses key questions which challenge all entrepreneurs:
Why financial backing is important for success.

What are the main sources of private funding by stage and where to find them.

When to raise outside capital.

How much money can and should be raised.

What is a reasonable valuation of the company.

How to structure the fundraising. Documents needed and strategies to follow.

How to attract, reach, talk and negotiate with investors.

How to pitch to investors and "get to the close".

What are the key components of the term sheet.
Contents
---
Section A. The Early Stage Investment Landscape
In this section you're going to learn:
Why it is important to raise capital. The circumstances and the right time to raise it.

The phases of fundraising, distinguishing between a startup and a SME.

The main sources of private capital for the Early Stage Business. From friends and family, angel investors, venture capitalists, private equity firms, incubators and accelerators. Also we will discuss when and why to consider debt financing, bank loans and the latest trends in crowdfunding.

Finally, we will discuss the pros and cons of each source of capital are explored in order to give you a closer look at the advantages and disadvantages of private funding.
By the end of the section you will be able to assess which private financing instruments are right for your business, identify potential investors, and understand their decision process and their selection criteria.
Section B. Structuring the funding round
In this section you're going to learn:
To use various simple and common financial tools to:

Estimate how much capital is needed, Free Cash Flow.

How much money you are losing each month, the burn rate.

When you can expect to become self-sustaining, the breakeven point.

Other important financial metrics.

Define the exit strategy of your business.

Documents we have to prepare before reaching out to investors.

Create a data room.
By the end of the section you will be able to estimate your capital needs, calculate the most relevant metrics demanded by investors, and start preparing the necessary documentation to kick off your funding round.
Section C. Fundraising process, getting funded
In this section you're going to learn:
Create a comprehensive funding strategy.

Main startup and SME valuation methods used by investors and the critical factors.

The stages of the funding process: from first contact to due diligence and closing.

Forms of financing: convertible notes, equity shares, preferred stock and debt.

What is the term sheet and the most common clauses.
At the end of this section, you will learn how to create an effective and efficient fundrasing strategy, how to use common valuation strategies to set a reasonable price for your company and understand the different stages of the investment process and its formalities.
Section D. Tips and strategies to attract, reach, talk and pitch to investors
In this section you're going to learn:
How to position yourself and your company on the internet and social networks like LinkedIn to be an attractive business for investors.

Practical tips on the do's and don'ts of pitching. Learn to create a compelling story to sell your business.

How to effectively reach and talk to investors.

How to structure your pitch deck.

Tips and strategies for negotiating with investors.
At the end of this section, you will learn how to communicate and negotiate with investors, and sell your business effectively.
Goals
---
Understand the concepts and terminology related to private funding

Know the main sources of private financing and identify which one is most suitable for your business

Understand the stages of the funding process

Learn how to valuate your business and define an exit strategy

Learn how to negotiate and talk to investors
Course staff
---
<>

Denys Bachynskyy

/I. Overview/ Graduated with a double degree in BA and Tourism, and MBA. He has worked as a consultant for top-tier tech consulting firms such as Capgemini and NTT Data. Denys has led startups in Silicon Valley, Hong Kong, and Barcelona. His last position was CEO and founder of a UC3M spin-off dedicated to the robotics and health sector. Currently, he is a senior VC at Blitszcaling Ventures, a venture capital fund in silicon valley. He is also the founder and CEO of So Real, a live VR streaming platform for interactive tours. LinkedIn:https://www.linkedin.com/in/denys-bach/
Frequently Asked Questions
---
What web browser should I use?
The Open edX platform works best with current versions of Chrome, Edge, Firefox, Internet Explorer, or Safari.
See our list of supported browsers for the most up-to-date information.