Predictive Maintenance, Data monetization, & AI
SHOP4CF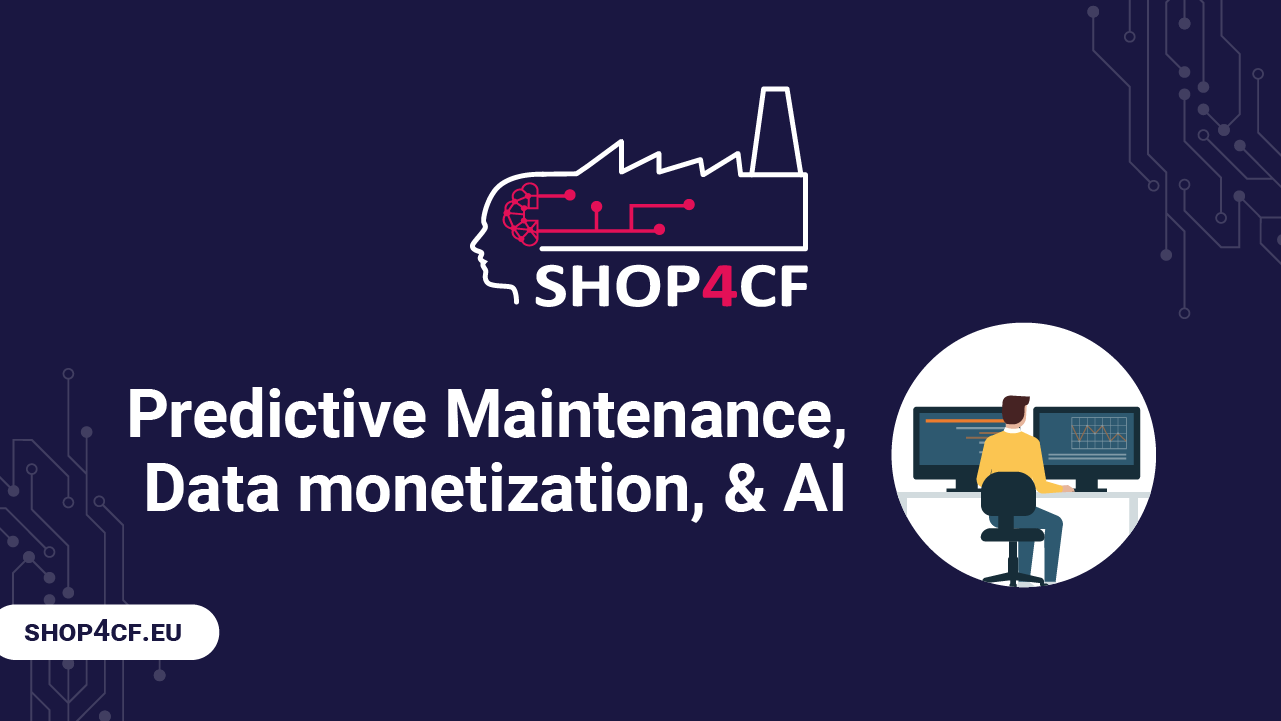 About This Course
---
As we enter the AI age, making sense of the wealth of data produced by a factory, and implementing truly closed-loop and ultimately autonomous operations, is still beyond the reach of most decision-makers. The abilities to understand what AI is, determine if it is the right solution for a given challenge and implement it are becoming key for factory managers.
This course will teach you the strategic importance of different AI subfields (Machine Learning, Computer Vision, Natural Language Processing, etc.) in building connected factories. Indeed, the Industry 4.0 ambition of self-optimizing manufacturing systems requires the application of AI technologies to deliver tangible results.
By presenting several successful AI-based use cases related to connected factories (predictive maintenance, automatic defect detection, better worker safety, increased energy savings, etc.), you will understand how to improve your different manufacturing processes while creating an AI augmented workforce, which is a blend of human employees and technology working on tasks together, and increasing your factory productivity. The idea of leveraging AI is to improve human workers' conditions and efficiency while helping workers focus on more added-value tasks.
AI projects can be complex to manage from a technical perspective and difficult to implement due to high-level skepticism from workers. In reality, only a minority of companies have managed to scale beyond initial pilots, reach production stage, build efficient AI-human workers workflows and systematically deploy AI solutions across all their factories.
As such, this course will explain how to start and scale your initial AI pilots and select your first use case (project scope, proof of concept, etc.) as well as setting up the building blocks of a long-term successful AI strategy such as data governance. Finally, you will discover how AI, specific algorithms (e.g. Federated Learning) and sensors embedded in machines can help you create a new revenue stream for your manufacturing site.
Goals
---
Understand how AI can be used to improve several manufacturing tasks and why AI is playing a key role in the construction of smart factories from a strategic perspective

Determine if AI can help you solve your challenges and how to start your first AI manufacturing project and build a long-term AI strategy

Discover how to adapt your workflows to build an AI augmented workforce and improve the way workers interact with the factory

How to monetize your factory data to create a new revenue stream

How to promote acceptance of AI, especially acceptance of AI-supported decision-making
Course staff
---
<>

Alexandre Gonfalonieri

AI consultant & writer based in Basel | Brain-Computer Interfaces #BCI | M2M economy | AI business models | Featured in HBR and ABC News

/I. Overview/ I am an AI consultant located in Basel. For the past five years, I have worked on several Machine Learning, IoT, and Big Data projects. I wrote several articles related to the implementation of AI or BCI for specialized online publications such as Harvard Business Review. LinkedIn:https://www.linkedin.com/in/agonfalonieri9/ Blog:https://alexandregonfalonieri.medium.com/
Frequently Asked Questions
---
What web browser should I use?
The Open edX platform works best with current versions of Chrome, Edge, Firefox, Internet Explorer, or Safari.
See our list of supported browsers for the most up-to-date information.