Human-Centered AI & Ethics
SHOP4CF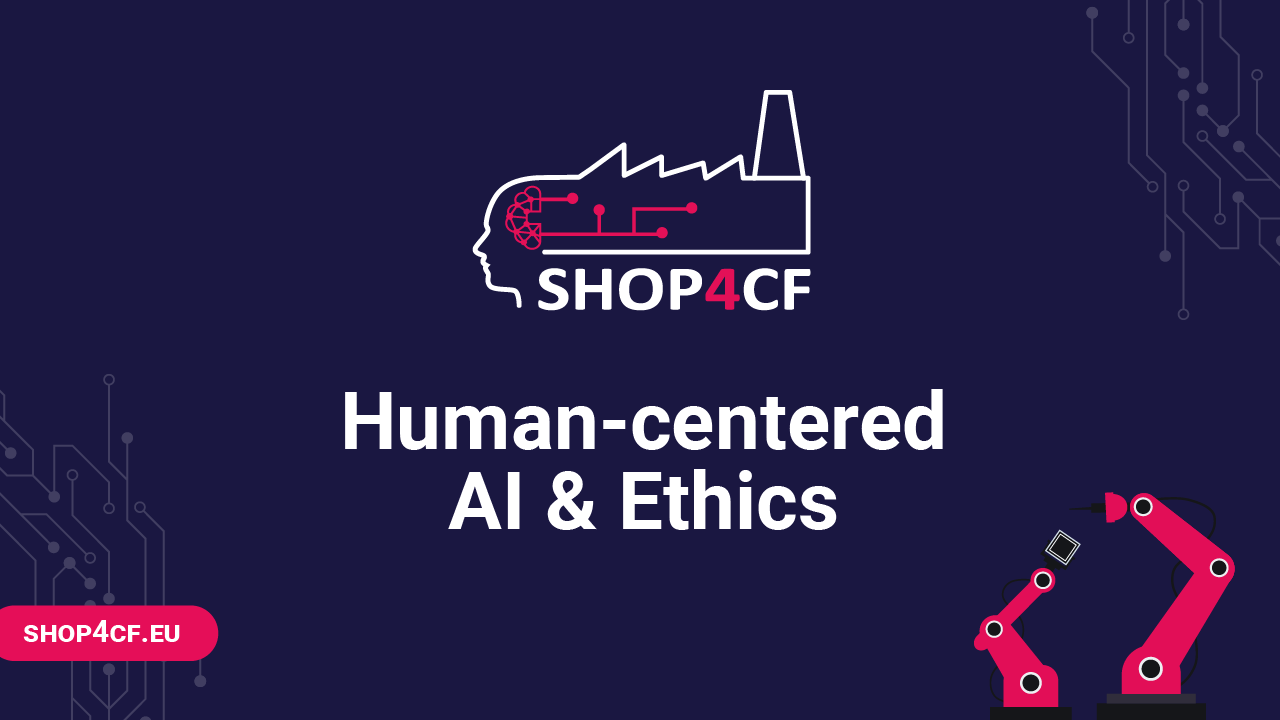 About This Course
---
Did you know that over 90% of people on the autism spectrum are unemployed full-time, and AI is one of key technologies which can fix it through social robotics and adapted virtual reality experiences? Or that AI helps to build personalized reading trainers for kids with dyslexia? Or that AI helps neurodiverse people find tech jobs in Google, Amazon or Microsoft leveraging special algorithms that analyse your cognitive pattern? Or that AI helps to empower drug research for oncology and viruses? Or that AI helps to create inclusive ecosystems for elders through NLP, bio and neurofeedback devices?
Artificial intelligence and such related fields as robotics, natural language processing, neural networks have an exponential potential to reimagine the future of our ecosystems, cities, classrooms, workplaces, making it more inclusive, open and interconnected. Unfortunately, as history demonstrates even great technologies (or beginnings) which are used in an irresponsible way can bring more harm than good.
Today's statistics says us that AI-driven facial recognition and police solutions have around 30% errors for women and people of colour, only 10-15% of AI and data teams are presented by women, social networks and platforms raise concerns similar to the "Cambridge Analytica" case, reminding us how we are far from actual data ownership. Schools, hospitals and medical institutions struggle to correctly and ethically adapt, implement AI-driven automation, computer vision and robotics. These cases and challenges are numerous.
However, there are no "wrong algorithms". There are wrong tools, approaches and frameworks behind it. AI ethics as a discipline and ecosystem covers a broad range of topics, discussions and debates. But more importantly AI ethics is an universal tool that helps developers, innovators, scientists, researchers and leaders to better connect technology development, policies and human rights, algorithms and societal criteria / logic, data and social sciences. The key objective of this course is to provide you with such a universal tool and ecosystem - human-centered AI-framework, which you can build, implement and keep updated for your product or organization, that meet requirements of responsible governance, transparency, algorithmic diversity and fairness.
Goals
---
Explore the recent dynamics, shifts and trends around AI Ethics on the intersection of ecosystems, businesses and policymakers.

Learn recent cases and practical studies on challenges which AI ethics accumulates, including bias, disinformation, privacy security and protection, underrepresented groups

Learn principles of human centered AI development and implementation;

Learn how to build and deploy ethical AI framework;

Learn how to keep your development aligned with recent laws, policies, local and global AI communities updates / knowledge.
Course staff
---
<>

Yonah Welker

Explorer, Mentor, Board Member | Ed, Health, AI, Ethics | @Y.Ai & Org @EU @MIT @500Strong @Ex-Hardwaretech

/I. Overview/ I've been working on the intersection of tech and society since 2005 year - when I've become a tech explorer and launched a hardware think tank. Over my journey, I founded and co-created tech startups and labs, helped to facilitate tech ecosystems through North America to APAC, MENA, Africa, Europe, screened over 2000 teams, contributed projects in ethics (data, AI, tech), deeptech, impact and sustainability (European Commission). I guided and screened the world youngest tech and AI inventors, Ashoka and United Nations fellows, talent from Google, Singularity University, 500 Startups, Techstars, Masschallenge, alumni of MIT, Harvard, Stanford, Oxford, womenpreneurs and leaders from Oprah Academy, WEDU, African Leadership Academy etc. & teams screening, mentoring and development, emerging technologies, products and ecosystems. /II. Mission/ Driven by my personal journey, my mission is to co-create products, solutions and ecosystems which reimagine ability, learning, wellbeing and experiences (ex. democratization, decentralization, personalization). Links ● yonah.ai - ai, technology, roboethics (portfolio) ● yonah.org - future of inclusive tech and research (foundation) ● yonah.ai/#appearances - AI, roboethics and algorithmic diversity, speaking and appearances ● geniusnomics.com - channel / podcast ● unit.ventures - decentralized and unit economy ● linkedin.com/in/welker/ - Linkedin / social Recent media & interviews: ●bridgeforbillions.org/blog/innovation-spotlight-5-questions-with-yonah-welker/ ● impactscool.com/en/evento/future-hub-live-with-yonah-welker/ ● teensinai.com/ada-lovelace-day-hack-2020/ Ethics Communities All Tech Is Human, Data Ethics For All, Montreal AI Ethics Institute
Frequently Asked Questions
---
What web browser should I use?
The Open edX platform works best with current versions of Chrome, Edge, Firefox, Internet Explorer, or Safari.
See our list of supported browsers for the most up-to-date information.